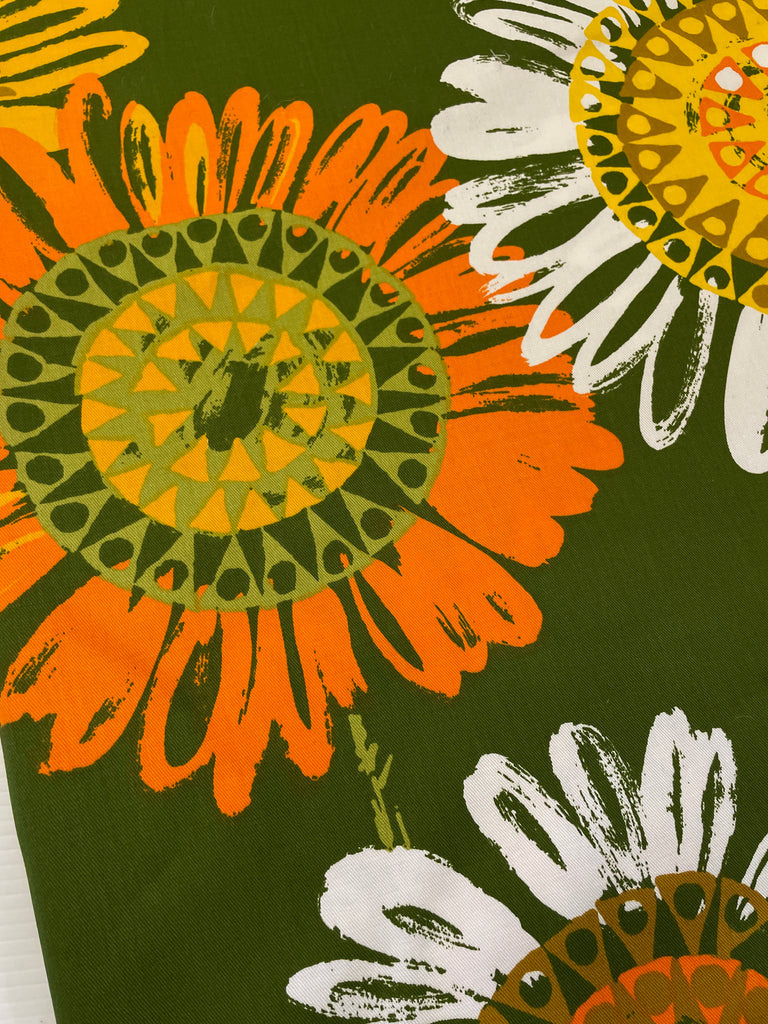 4m LEFT: Vintage Fabric 1960s 70s MCM Super Graphic Bright Sunflowers On Green Cotton
Fabric: vintage 1960s or 1970s light draper or soft furnishing weight cotton drill with the most amazing design. Super graphic large sunflowers in bright orange, yellow, chocolate and white - so MCM! This was a hard fabric to photograph - the second photo shows the colours accurately. I am estimating the bolt to have 4m of fabric on it, but it could be much more, so ask if you'd like a longer quantity and we'll measure it for you.
Condition: unused, unwashed, still on the original bolt so the edges are a little creased.
Width: The fabric is 120cm wide selvedge to selvedge.
Purchase size: this piece is 120cm wide x 50cm long. Multiple quantities purchased will be sent uncut. The second last photo shows around 65cm of length.
Examples of use: bags, lampshades, occasional furniture, general craft, ottoman - things requiring a sturdier fabric that isn't upholstery weight.
Multiple quantities purchased will be sent uncut:
One quantity: 120cm wide x 50cm long
Two quantities: 120cm wide x 100cm long
Three quantities: 120cm wide x 150cm
Four quantities: 120cm wide x 200cm long